Types of Outdoor Lighting Installation in Lovettsville, VA
Add value to your property and security to your home with outdoor lighting installation in Toledo, OH, from All Seasons Mister Sparky. Our expert technicians provide superior service for all your lighting needs in Toledo, OH. In the picturesque setting of Lovettsville, VA, outdoor spaces become an extension of our homes—a place to gather, celebrate, or unwind. Proper lighting can significantly enhance these spaces, making them safer, more functional, and aesthetically pleasing. All Seasons Mister Sparky Electricians are experts in crafting the perfect ambiance for every outdoor nook and corner of your residence.
Here are the diverse lighting solutions we proudly offer:
Pathway Lighting: Elegantly light up your walkways and garden paths, ensuring safe foot navigation during nighttime.
Accent Spotlights: Focus on specific elements in your garden, be it a vintage statue, a water feature, or a unique plant.
Deck and Patio Illumination: Transform your deck or patio into a warm, inviting space with well-placed lights, perfect for evening gatherings.
Floodlights: Illuminate larger spaces such as driveways, yards, or play areas. Ideal for security and functionality.
Wall and Facade Lighting: Emphasize the architectural features of your home while ensuring entrances are well-lit and welcoming.
String and Festoon Lighting: Add a touch of whimsy or romance to your gardens, patios, or trees. It is ideal for parties or to create a magical atmosphere.
Landscape Uplights: Enhance your landscaping efforts by illuminating trees, shrubs, and other garden features from below.
Motion-Sensor Lights: Combine functionality with security. These lights activate upon detecting movement, providing safety and deterring unwanted visitors.
Pond and Pool Lighting: Safely navigate around water features while creating a mesmerizing reflection play during the evenings.
Step and Stair Lights: Ensure every step is safe with lights highlighting elevation changes, making nighttime navigation a breeze.
With All Seasons Mister Sparky Electricians, transform your outdoor spaces in Lovettsville, VA, into luminous landscapes that beckon for admiration and enjoyment.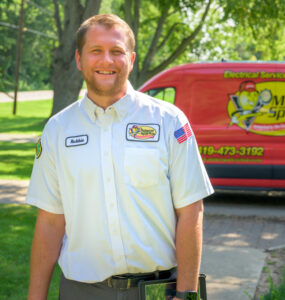 Benefits of Outdoor Lighting Installation by All Seasons Mister Sparky in Lovettsville, VA
In the beautiful town of Lovettsville, VA, outdoor spaces offer a sanctuary from the hustle and bustle of everyday life. When enhanced with the proper lighting, these areas can truly shine, extending the functionality and beauty of your home into the great outdoors. All Seasons Mister Sparky illuminates your spaces with impeccable expertise.
Here are the myriad benefits that our outdoor lighting solutions bring to your home:
Enhanced Curb Appeal: A well-lit exterior can highlight your home's architecture and landscaping, increasing its aesthetic appeal and value.
Safety and Security: Proper lighting deters potential intruders and reduces trip hazards, ensuring a safer environment for you and your guests.
Extended Living Space: With the proper outdoor lighting, patios, decks, and gardens become welcoming extensions of your home, allowing you to enjoy them long after sunset.
Increased Home Value: Homes with professional outdoor lighting often fetch a higher market price, making it a worthwhile investment.
Ambiance and Mood Setting: From festive to serene, outdoor lighting can help set the desired mood for any event or gathering.
Highlighting Architectural and Landscaping Features: Showcase your home's unique architectural details or your meticulously tended garden with strategic lighting.
Energy Efficiency: Modern lighting solutions provided by All Seasons Mister Sparky often use energy-efficient bulbs, reducing both environmental impact and electricity costs.
Durability and Longevity: Our quality installations ensure that your lighting fixtures withstand the elements, offering you long-term functionality.
Customized Solutions: Every home is unique, and our team prides itself on crafting lighting solutions tailored to your specific needs and desires.
Peace of Mind: With our reputation for excellence, you can rest assured that we will complete your project with the utmost professionalism and quality.
Investing in outdoor lighting with All Seasons Mister Sparky in Lovettsville, VA, is more than just adding lights—it's about enhancing your lifestyle, safety, and home's beauty.
Why choose All Seasons Mister Sparky Electricians for Your Outdoor Lighting Installation in Lovettsville, VA
Outdoor lighting is more than just placing a few bulbs around your property. It's an art that combines aesthetics, safety, and functionality. All Seasons Mister Sparky Electricians in Lovettsville, VA, has mastered this craft, ensuring residents can access top-tier lighting solutions that enhance their outdoor spaces.
Here are compelling reasons why we stand out as the premier choice for your outdoor lighting installation:
Expertise & Experience: With years in the industry, our team has accumulated vast knowledge and refined skills, efficiently handling projects of varying complexities.
Customized Solutions: Understanding that each property is unique, we offer tailored lighting solutions that align perfectly with your home's design and personal preferences.
High-Quality Products: We partner with trusted manufacturers to provide durable and aesthetically pleasing lighting fixtures, ensuring your installations look good and last longer.
Safety First: Our electricians adhere to the highest safety standards, ensuring that every installation is safe for the property and its inhabitants.
Transparent Pricing: We believe in clear communication. You'll receive a comprehensive quote without hidden costs, ensuring you know what to expect from the outset.
Efficient and Timely Services: We respect your time. Our team will complete all projects within the agreed timeframe and maintain quality.
Licensed and Insured: Our team is fully licensed and insured for your peace of mind. We will ensure to protect you throughout the project.
Continuous Training: Technology and techniques evolve, and so do we. Our team undergoes continuous training, ensuring they're updated on the latest trends and styles in outdoor lighting.
Excellent Customer Service: From the initial consultation to the final touch, our team is dedicated to providing unparalleled customer service, ensuring your vision is realized to perfection.
Local Understanding: Being based in Lovettsville, VA, we understand the local aesthetics, weather conditions, and preferences, ensuring our solutions harmonize with the community's vibe.
Entrusting All Seasons Mister Sparky Electricians with your outdoor lighting installation in Lovettsville, VA, means choosing quality, professionalism, and a dedicated partner who will illuminate your property's best features.
FAQs – Outdoor Lighting Installation In Lovettsville, VA
When enhancing your outdoor spaces' beauty, safety, and functionality, outdoor lighting installation is a popular choice among Lovettsville residents. As experts in this field, All Seasons Mister Sparky Electricians regularly address questions and concerns from homeowners.
Below is a detailed list of the most frequently asked questions about our outdoor lighting services:
Q1. What types of outdoor lighting do you offer?
A: We provide a diverse range of outdoor lighting solutions, including accent lighting, pathway lights, security lights, deck and patio lights, and more. Our team will work with you to determine the best type for your needs and aesthetics.
Q2. How long does the outdoor lighting installation process take?
A: The duration depends on the complexity and scale of the project. A standard home installation typically takes a day or two, but more significant properties or intricate designs might require more time. We'll provide an estimated timeline after assessing your property.
Q3. Are your outdoor lighting fixtures energy-efficient?
A: Absolutely! We prioritize energy efficiency and offer LED and other energy-saving lighting options. This ensures reduced electricity bills and a smaller carbon footprint.
Q4. Can I customize my lighting design?
A: Yes, customization is at the heart of our services. We work closely with clients to create a lighting plan that matches their vision and property's architecture.
Q5. Is outdoor lighting weatherproof?
A: Our lighting fixtures are designed to withstand various weather conditions, from intense sun to heavy rain. They are built for durability and resilience, ensuring longevity.
Q6. Do you provide maintenance services post-installation?
A: We offer maintenance services to ensure your lighting system remains in optimal condition. Regular maintenance can extend the life of your lights and keep them shining bright.
Q7. What is the cost of an outdoor lighting installation?
A: Costs can vary based on the type of lighting chosen, the project's scale, and the design's intricacy. We provide transparent quotes upfront, ensuring no hidden charges.
Q8. Are your electricians licensed and trained?
A: All our electricians are fully licensed and undergo regular training to stay updated on industry best practices and safety standards.
Q9. What should I consider when planning my outdoor lighting installation?
A: Think about the primary purpose of your lighting (aesthetics, safety, or functionality) and the areas you want to highlight. Our team can also provide recommendations based on our experience.
Q10. Do you offer a warranty on the outdoor lighting installation?
A: We stand by the quality of our work and offer warranties on our outdoor lighting installations. We will provide specific warranty details during the consultation.
Outdoor lighting can transform your property in unimaginable ways. If you have more questions or are ready to begin your lighting journey, All Seasons Mister Sparky Electricians in Lovettsville, VA, is here to guide you through every step.