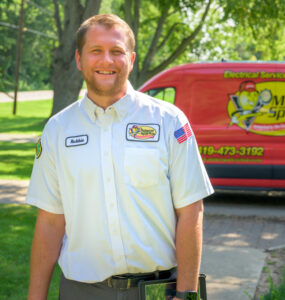 Our expert electricians at All Seasons, Mister Sparky, has compiled a list of the top 10 signs you need an electrical upgrade include the following:
Frequent Breaker Trips: Circuit breakers trip when they're overloaded as a safety measure to prevent fires. However, if this happens frequently, it indicates that your home's electrical system is working harder than it should.
Old or Damaged Wiring: If your house is several decades old and has never had an electrical upgrade, there's a chance that your wiring may be worn out or not up to the current code. Worn-out wiring can pose a severe safety hazard.
Dimming or Flickering Lights: If your lights tend to flicker or dim, especially when using another appliance, this can signal that your circuits are overloaded.
Warm or Discolored Outlets: Any outlet that feels warm to the touch or has discoloration may indicate a potentially dangerous electrical problem.
Lack of Outlets: Are you overly dependent on power strips and extension cords? Your home may not have enough outlets, indicating it's time for an upgrade.
Two-Prong Outlets: If your home still has two-prong outlets, it's time to upgrade. Modern electrical appliances and gadgets require three-prong outlets, and the two-prong outlets lack the grounding necessary for safety.
No GFCI Outlets in Necessary Areas: GFCI (Ground Fault Circuit Interrupter) outlets are required in areas where water is present, such as bathrooms, kitchens, and outdoor spaces. If you need these, your electrical system needs to be updated.
Unusual Noises or Smells: If you hear buzzing from your outlets or smell a burning odor, these are severe signs of electrical problems that should be addressed immediately.
Electrical Shocks: If you get a mild shock when you plug in or touch a cord, this could be a sign of a faulty appliance or a problem with your wiring.
Rising Energy Bills: If your electricity bill has increased suddenly without a change in your usage habits, your system may be overworking due to electrical issues.
Identifying these signs is the first step in ensuring the safety and efficiency of your home's electrical system. Be sure to call a professional if you observe any of these issues. At All Seasons Mister Sparky, we provide top-notch electrical repair services in Toledo. We're ready to help with upgrades to keep your home safe, efficient, and well-powered.
The Process of Electrical Panel Upgrades in Toledo Homes
The electrical panel is the heart of your home's electrical system. It's where the power from your utility company enters your home and is then distributed to the various circuits. Over time, as you add more appliances or if your home ages, the electrical panel may need an upgrade. At All Seasons Mister Sparky, we specialize in electrical panel upgrades in Toledo homes. Let's walk you through the process.
Assessment: The first step of an electrical panel upgrade is a thorough assessment. Our electricians will visit your home to evaluate the current state of your electrical panel, the capacity of your electrical system, and your home's power needs. They will also inspect the system for any potential safety risks.
Planning and Permitting: Based on the assessment, our team will create a plan for the upgrade. This may involve upgrading your panel to a higher amp service or replacing an old fuse-style panel with a modern circuit breaker panel. We will obtain all necessary permits from local authorities in Toledo to ensure the work is legal and up to code.
Removing the Old Panel: Our team will shut off the power to your home and carefully remove the old panel. This process involves disconnecting the circuits, clearing the board from mounting, and safely disconnecting the panel from your home's electrical system.
Installing the New Panel: We will then install the new electrical panel, carefully connecting each circuit to the new panel. Each circuit breaker will be labeled appropriately for future reference.
Testing: Once the new panel is installed, it's time for testing. Our electricians will turn the power back on and check each circuit to ensure it's working correctly. We will verify that each circuit breaker is appropriately tripping to protect against overloads and short circuits.
Inspection: After testing, an inspector from the local Toledo authorities will verify that the upgrade was done correctly and is up to code. Only after the inspection is passed the process is considered complete.
Clean-Up and Final Review: Our team will clean up the work area and provide you with a final review. We will also provide any necessary documentation about your new electrical panel.
Upgrading your electrical panel is a significant project, but it can significantly improve the safety and efficiency of your home's electrical system. If your Toledo home may need an electrical panel upgrade, contact us at All Seasons, Mister Sparky, for a thorough and professional service.
Why Choose All Seasons Mister Sparky for Electrical Panel Upgrades in Toledo, OH?
Electrical panel upgrades are critical to maintaining the safety and efficiency of any property's electrical system. In Toledo, OH, homeowners have the privilege of entrusting their electrical needs to All Seasons Mister Sparky, a recognized leader in the field. Here are the compelling reasons why Toledo residents consistently choose All Seasons Mister Sparky for their electrical panel upgrades:
Expertise and Experience: With years of hands-on experience, All Seasons Mister Sparky has dealt with a wide range of electrical systems, both outdated and modern. Their depth of experience ensures that they can handle any panel upgrade with precision and expertise.
Certified Electricians: Every electrician at All Seasons Mister Sparky is trained and certified. This means homeowners are assured of receiving service from professionals who adhere to the highest safety and quality standards.
Transparent Pricing: There are no hidden costs or surprises. All Seasons Mister Sparky believes in clear communication regarding the expenses associated with an upgrade, ensuring clients are well-informed before any work begins.
Prompt and Reliable Service: Recognizing the importance of electrical safety and the inconvenience of electrical disruptions, the team ensures timely service, arriving at your doorstep as scheduled.
State-of-the-Art Equipment: To guarantee the best service, All Seasons Mister Sparky uses the latest equipment and technology for all electrical panel upgrades. This not only ensures efficiency but also the longevity of the upgrades.
Safety First: Safety is a top priority. The team takes all necessary precautions to ensure the upgrade process is safe, adhering strictly to all local regulations and safety protocols.
24/7 Emergency Services: Electrical emergencies can happen at any time. That's why All Seasons Mister Sparky offers round-the-clock emergency services, ensuring homeowners can access professional help whenever needed.
Outstanding Customer Service: From the initial consultation to the completion of the project, clients are treated with utmost respect and courtesy. Every question is answered, and every concern is addressed, emphasizing customer satisfaction.
Warranty on Services: All Seasons Mister Sparky stands by the quality of their work, offering warranties, which underscores their commitment to excellence and reliability.
Local Reputation: As a community-driven service, satisfied Toledo residents' positive testimonials and referrals attest to the high-quality service All Seasons Mister Sparky delivers consistently.
For any homeowner considering an electrical panel upgrade, making an informed choice is crucial. With their unparalleled dedication to excellence, All Seasons Mister Sparky remains the trusted name for electrical panel upgrades in Toledo, OH. Their commitment to safety, quality, and customer satisfaction makes them the go-to service provider for all electrical needs.